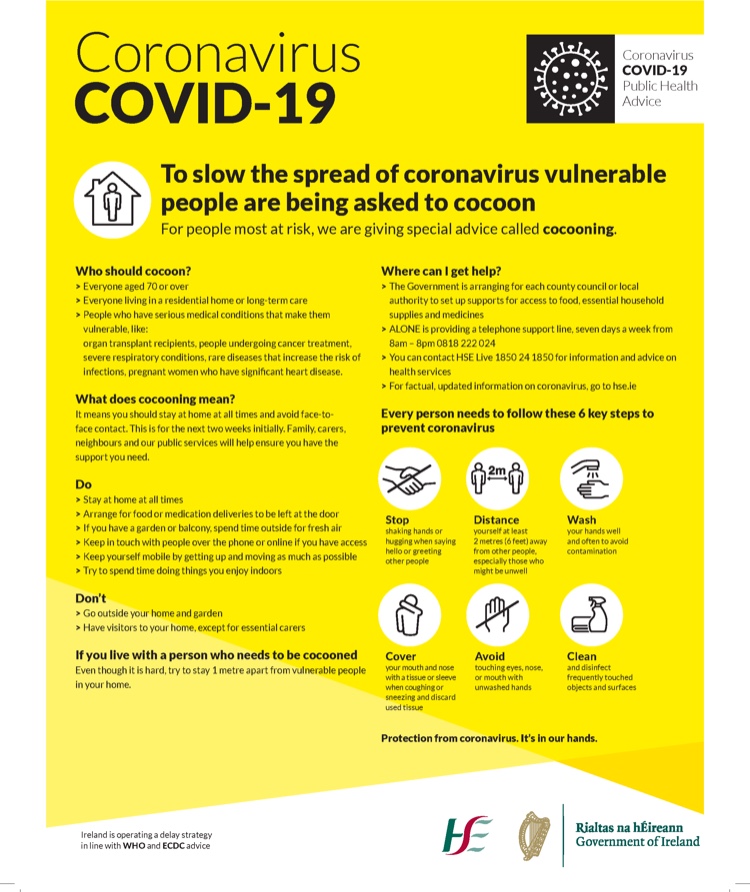 Coronavirus 19 – Cocooning
We are continually taking advice from HSE to keep our residents safe. We are now advising you that our residents are being cocooned to help slow the spread of Coronavirus to all our valuable vulnerable adults in this community.
Please refrain from visiting our residents or coming down our avenue in Grantstown during this time (except for the essential carers or authorised volunteers) who are our super troupers caring for our elderly.
This time is a difficult time for all but it will pass and it is our priority to protect our valuable wonderful residents who are also our friends. We wish them well and for them to stay safe in these uncertain times.
Please feel free to communicate with our residents by telephone and our office is still being manned every day if anyone wants to volunteer their support, we will be delighted to hear from you. Thank you to all that have already offered their support
A big thank you to our local GAA for helping deliver the meals on wheels to all the vulnerable in our community – our numbers are growing daily – we have a lot of hero's doing tremendous work 
 and we can not thank you enough.
From Lesley & Board of Management.
We wish you all to stay safe 
and we look forward to coming out the other side and having our clients back in the Day Care Centre soon. We miss you all.